Thai Restaurants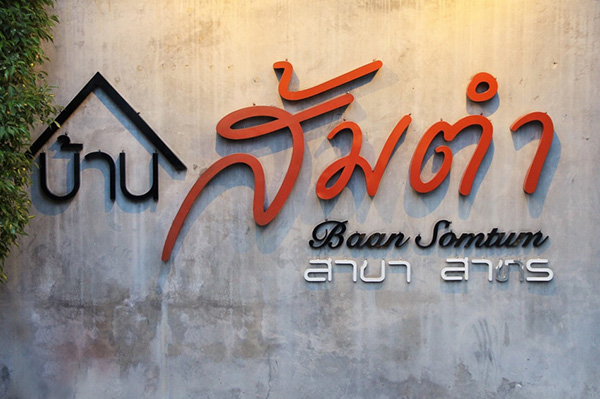 Baan Somtum
"Somtum" or spicy papaya salad is one well-known northeastern Thai dish and local favorite that any visitor should try at least once. This restaurant is specialized in northeastern Thai cuisine and offers about 20 types of Somtum, not to mention many other delicious local dishes on the menu. The restaurant is a favorite among the locals because of its authentic taste, especially the spicy dishes.
Sathorn Square, 9/1 Soi Sriviang, Pramuan Road, Silom, Bangkok 10500 Tel. 02 630 3486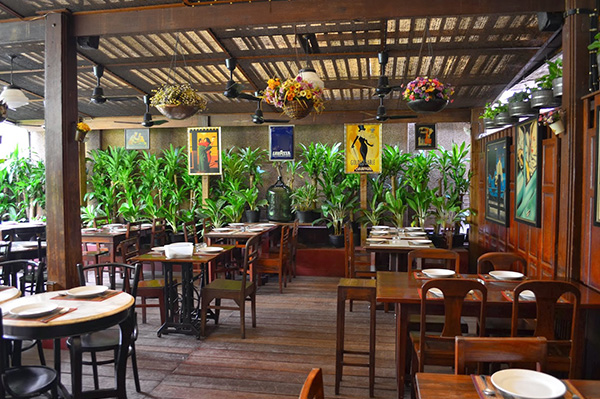 Ban Chiang Restaurant
Many visitors, foreign and Thai alike, seem to be mesmerized by the old-style house, old Thai furniture and lush greenery of this authentic Thai restaurant. It is rather well-known among foreign travelers for the lovely atmosphere, attentive service, and delicious traditional Thai dishes – so delicious that Ban Chiang also attracts quite many local diners as well.
14 Soi Sriviang, Pramuan Road, Silom, Bangrak, Bangkok 10500 Tel. 02 236 7045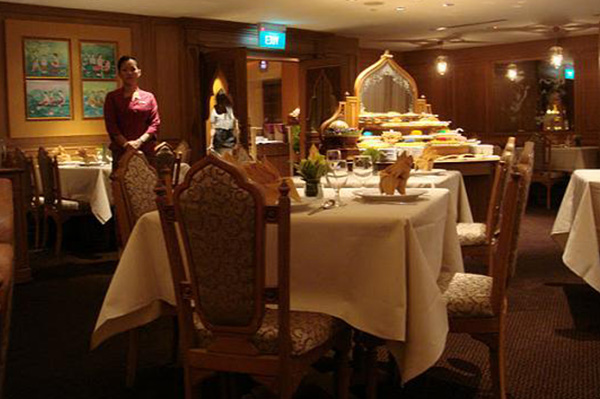 Thanying Restaurant
Thanying is a conversational address to the title of Her Serene Highness Princess in Thailand, and the restaurant is named in honor of one princess who was once the head cook to a palace. It was her son who opened this traditional Thai restaurant that serves the dishes once created for the royal cuisine, and recruited the assistants to the princess chef to cook these delectably authentic dishes created by his mother. The taste of genuine royal Thai cuisine is what you will experience here at Thanying.
10 Pramuan Road, Silom, Bangrak, Bangkok 10500 Tel. 02-236-4361, 02-235-0371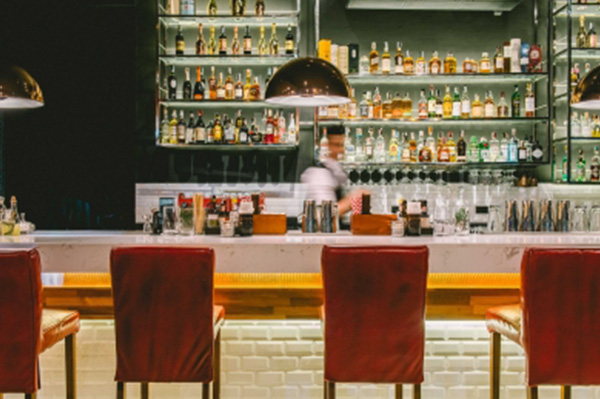 Kalapapruek Restaurant
Kalapapruek is a casual, home-style Thai restaurant that has been a favorite among the locals of all age groups for many decades. It has always been a go-to place or a comfort zone when one doesn't have anything in mind for lunch or dinner. The menu is varied, from comfort food to traditional Thai fare from the 4 regions of the country, all tasting so real and homey. Another highlight of this restaurant is its desserts, with varieties of fresh, home-baked goodies that taste so good and bring back good old childhood memories for many.
27 Pramuan Road, Silom, Bangrak, Bangkok, 10500 Tel. 02-238-4002, 02-635-3986
Italian Restaurants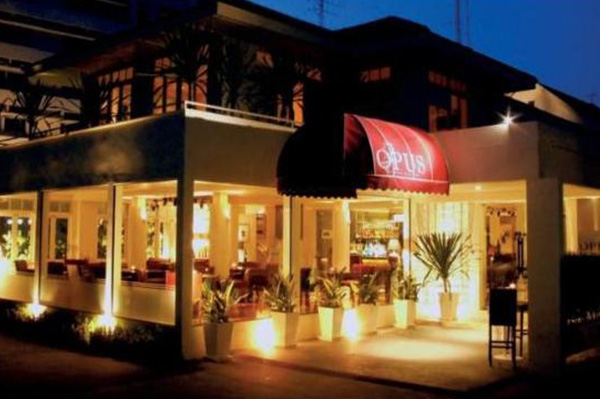 Opus Italian Wine Bar & Restaurant
An Italian wine bar that serves traditional Italian fare and stocks over 200 labels of Italian wine of varied price range. Opened for dinner only, this upscale Italian restaurant seems to attract couples for date nights as well as business crowd to wine and dine over business talk. The food is delicious, the atmosphere is marvelous, and the wine is a must because after all, it is a wine bar.
64 Pan Road, Silom, Bang Rak, Bangkok 10500 Tel. 02 637 9899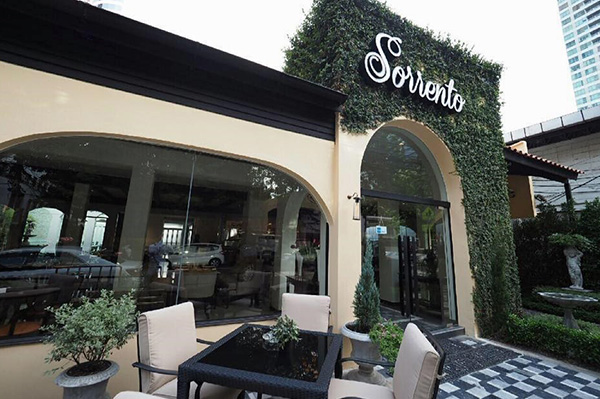 Sorrento Italian Restaurant
Sorrento is a familiar name among the locals since the '80s. It had recently been saved from closure by a new owner and reintroduced once again. It had been known for the authentic taste of Italy and the old-school atmosphere that seemed to be comforting to many frequent diners. Now that it has been relocated and revamped, with an addition of a bar and in-house mixologist, the familiar taste of the past and lively atmosphere still bring back old-time customers as well as attract new ones.
73 Soi Sathorn 10, Silom, Bangrak, Bangkok 10500 Tel. 02 234 9841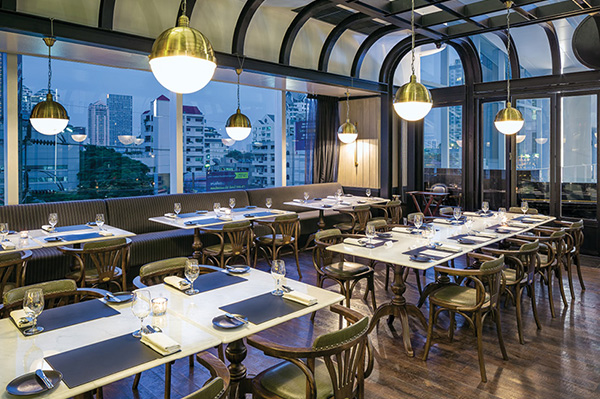 IL Bolognese Trattoria e Pizzeria
IL Bolognese is a casual Italian restaurant that serves delicious food and desserts in a cozy and homey atmosphere of a home with lush green garden. It is a favorite among families with young children, with a great selection of authentic Italian fare to satisfy all family members. However, many business people in the area also frequent the restaurant. Definitely a place of great taste, varieties and value!
139/3 Sathorn Soi 7, Bangkok 10120 Tel. 02-286-8805
All-day Breakfast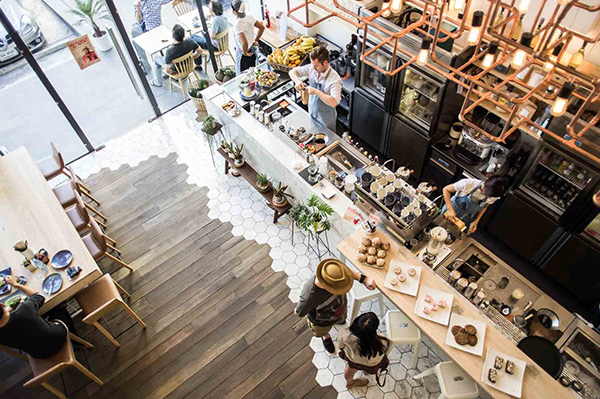 Rocket Coffeebar
A rather successful all-day breakfast joint, one might say, as it has already branched out quite a bit after only a few years. Probably one of the first in the realm of farm-to-table concept in Thailand, this Swedish joint has been known for the freshness and high quality of its ingredients. Popular menu items include its artisan coffee and Scandinavian-influenced dishes such as open-faced sandwiches. High quality food items, aromatic drinks and the relaxing atmosphere certainly combine to make the place a sanctuary for city people that live or work around the area.
149 Sathorn Soi 12, Bangrak, Bangkok 10500 Tel. 02-635-0404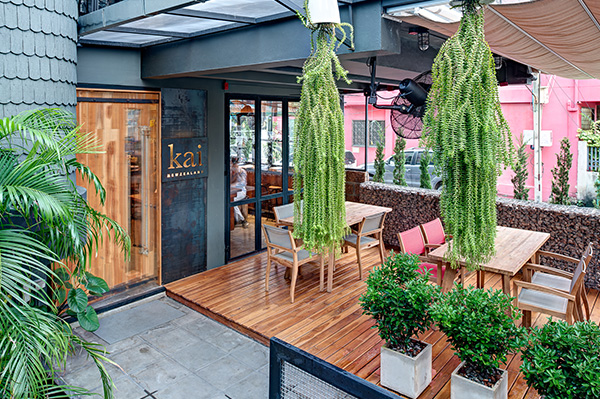 Kai New Zealand
This modern Kiwi kitchen is known for its quality homemade fare, both food and baked goodies; and the fact that the ingredients are imported from New Zealand has made the place even more interesting. The recipes are the creation of the owners themselves, with strong influence from their very own origin. The vast choices on the menu include all-day breakfast, cold & hot appetizers, soups, salads, pizzas, burgers, seafood, grilled dishes, Sunday roasts and many more.
142/22-23 Sathorn Soi 12, Bangrak, Bangkok 10500 Tel. 02-635-3800
Restaurant & Bar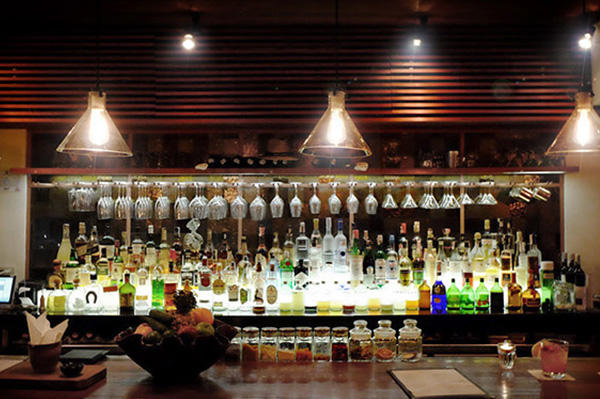 Lady Brett Tavern
This compact-sized bar & restaurant has been a hit for quite sometimes. The mainly barbequed and grilled dishes here are more of a tapas style, and all are exquisite. Comfort food for the hipsters, one might say! Another highlight of this modern-meet-comfort space is the cocktail menu, with a handful of interesting concoctions, either to kick start or end a delectable meal in fashion.
149 Sathorn Soi 12, Bangrak, Bangkok 10500 Tel. 02-635-0405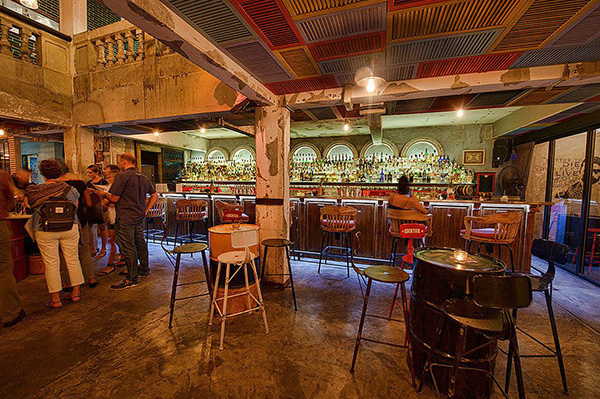 Revolucion Cocktail Bar
A very hip spot with great many creative cocktails to offer, this Shanghai-born cocktail bar had 3 branches in China before opening its first in Bangkok. This bar with retro Cuban theme is a lively place for a meet-and-mingle with friends, with a house DJ to help boosting the fun and friendly atmosphere. On its second floor is now a vibrant & colorful restaurant that serves creative Latin-American fare. This full-fledge restaurant & bar is sure to become a favorite hangout space in the area.
50 Sathorn Soi 10, Bangrak, Bangkok 10500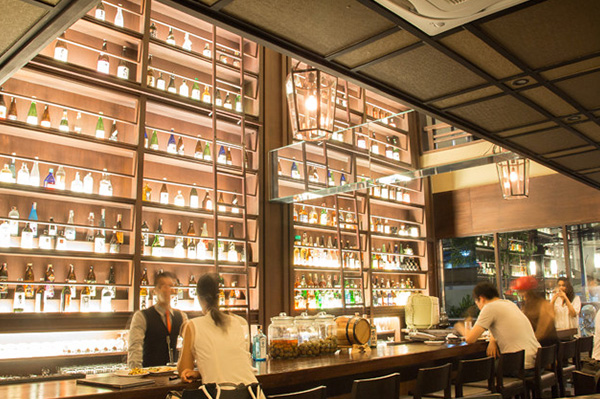 Hanakaruta Sathorn SAKE Bar & Japanese Food
This modern-meet-cozy Japanese bar offers varieties of Sake as well as creative cocktails. Though it is mainly a bar, it also serves Japanese food. The dishes here taste especially great when paired with their beverage creations.
28/1 Sathorn Soi 10, Bangrak, Bangkok 10500 Tel. 02-635-1239
Japanese Restaurants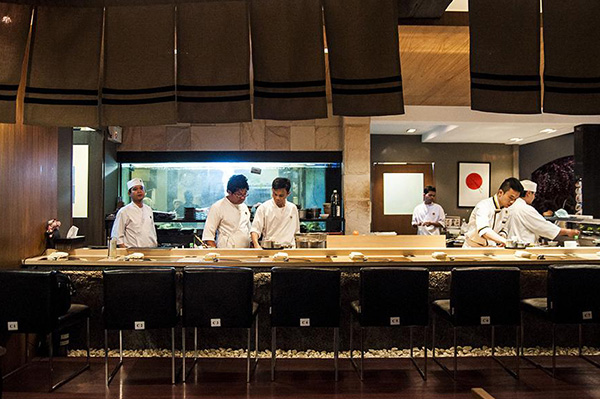 Tenyuu Grand Japanese Restaurant
Tenyuu Grand is a fine dining Japanese restaurant located in the heart of Bangkok's business district. Set in a lovely, Japanese-style atmosphere, the restaurant offers great varieties of fresh sashimi and sushi as well as other traditional Japanese dishes. With a lot of local and multinational companies in the area, it can be quite busy during weekdays.
66 North Sathorn Road, Bangrak, Bangkok 10500 Tel. 02-632-1777
Chinese Restaurants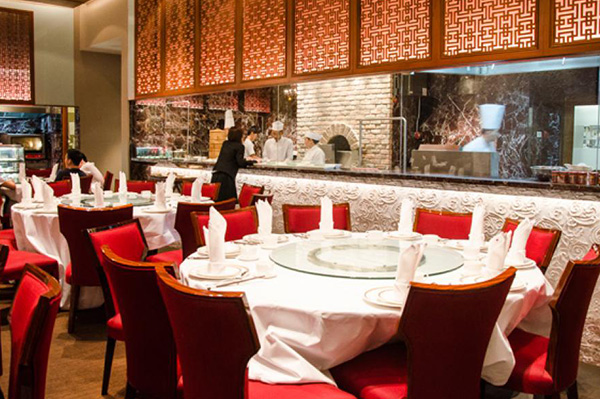 Chef Man
This casual-style Chinese restaurant is very famous for its Peking duck, while the crispy pork belly is also one of the best in town. The varieties of delicious dim sum also attract many customers back for more, especially the baked snow bun with BBQ pork and molten lava bun, both of which are among the tastiest in town.
Eastin Grand Hotel Sathorn, 33/1 South Sathorn Road, Bangkok 10120 Tel. 02-212-3789, 02-212-3741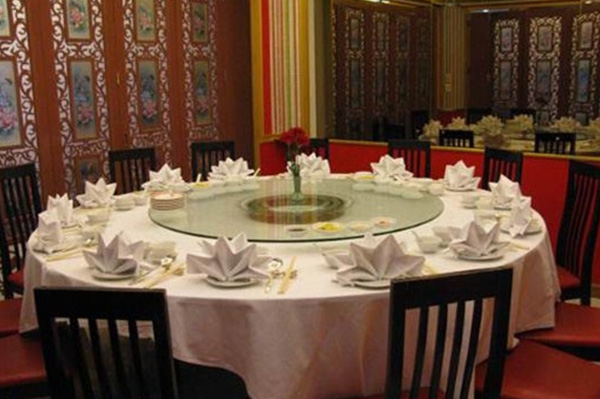 Shangarila Restaurant
Shangarila is one of the original Hong Kong-style Chinese restaurants in town that continues to remain a favorite among old and new generations of diners. Shangarila Restaurant has been around for many decades and branched out quite a bit, with its success being a reliable source of review in itself! From dim sums to fresh seafood and gourmet dishes that are hard to find, Shangarila offers all, and every dish is guaranteed consistency in its flavor, in other words, as delicious as it has always been.
58/4-9 Silom Soi 7, Bangkok 10500 Tel. 02-234-0861-3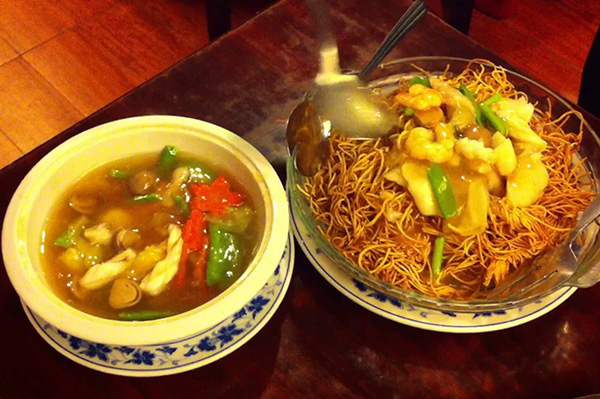 China Palace Chinese Restaurant
An old-school Chinese restaurant in town that still preserves its originality in terms of taste. For those who want a break on fusion food and go back to the original taste, this place would be the perfect choice. It is most well-known for the basic and simple dishes especially dim sums.
297 Si Phraya Road, Bangrak, Bangkok 10500 Tel. 02-631-5111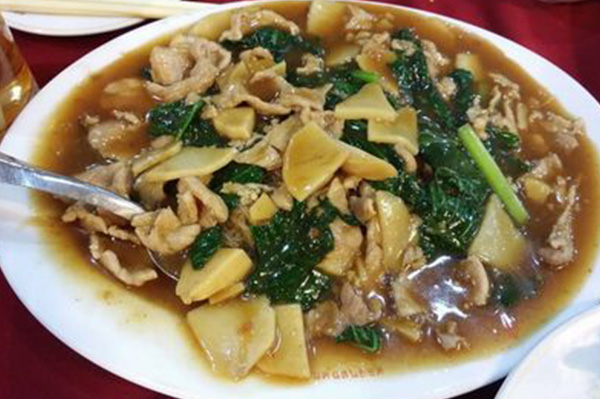 Sanyod Chinese Restaurant
Sanyod is a Cantonese restaurant specialized in authentic traditional Cantonese cuisine for the past 50 years or so. Its signature dishes namely roast duck, pan-friend noodle with gravy and egg noodles are still among the best in town. Though it has 3 branches nowadays, each branch still strictly follows the ancient cooking method to ensure original and delectable taste of Guangzhou.
202/1-2 Soi Jarutrueng, North Sathorn Road, Bangrak, Bangkok 10500 Tel. 02 236 3905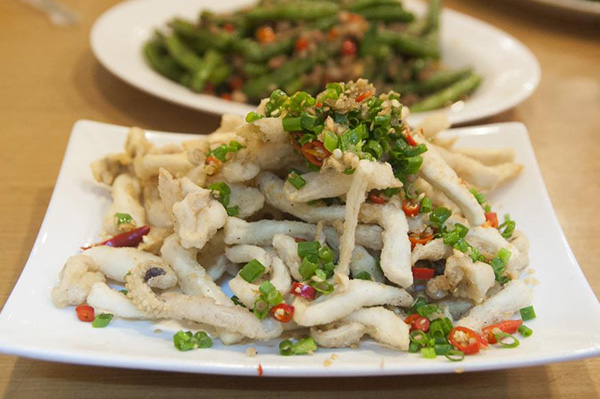 Boon Restaurant
A Peking-style Chinese restaurant with a bit of a twist to satisfy the palate of Thai crowd. It is well-known among its frequent customers that the food here is quite heavy on the garlic and chili department, which make each dish especially spicy and rich in taste. The restaurant is rather compact in size and quite crowded at peak dining hours. However, it is open until almost dawn so if you get hungry in the middle of the night, you know where to get your stomach filled up!
152/18-19 Silom Road, Bangrak, Bangkok 10500 Tel. 02-237-2764